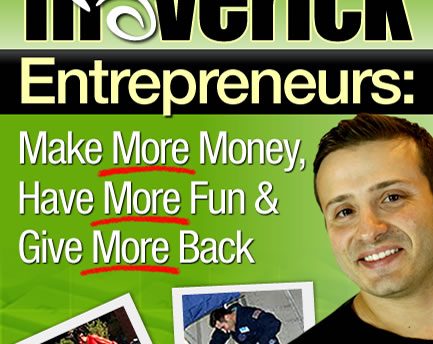 I was inspired by Yanik Silver's book 34 Rules for Maverick Entrepreneurs (download on the right) to create my Big Life List. I've always set goals, but this is a bit different. It's actually a lot more fun and very energizing. The Big Life list is sort of like a bucket list… all the big things you want to do before you die.
It's my list of what I plan to Be, Do, and Have throughout my lifetime. It's made to be dynamic… it will keep growing as I grow, and I'll get to cross items off the list. I'll make this post easily accessible on my site so you can always see my progress. I hope it inspires you to make your own list!
BE:
Become a best-selling author
Fluent in Spanish
Fluent in Portuguese
Moderately fluent in French and Italian
A millionaire by 26 (not achieved, but built a million dollar company at 26)
A great father (this doesn't get crossed off till all my future kids agree!)
A incredible husband
DO:
Speak infront of an audience of 10,000 people or more
Go sky diving
Create a business or product that dramatically impacts the world (doing it with NEXT)
Go hang gliding (in South America … but really anywhere will do)
Go hot air ballooning
Squirrel Suit Jump. Yeah, seriously.
Write a book
Snowboard at one of the coolest mountains in the world (suggestions please!)
Hang out with Tim Ferriss
Go mountain biking in the Philippines
Sell a company
A million dollar product launch
Bungee jump
Scuba Dive
Tour the Egyptian pyramids
Drive cross country (did this in a convertible!)
Go into space
Impact 1,000,000 young entrepreneurs (25 and under to start or grow their own ventures.)
Release my own rap album
Rap on stage in front of an audience of 1,000+
Drive at 200+ mph
Fly a plane
Travel to/across Europe
Visit Russia (and hopefully see some of my family there)
Hang out with Sir Richard Branson
Speak on stage with Tony Robbins
HAVE:
A blue Lotus Elise
An ocean side home (kinda have this now)
A cool sports bike (suggestions?)
This is just a start. Like I said, this list will keep growing. And I'll start crossing items off right here as I accomplish them! The "do" list will grow quickly… the "have" list is tough for me, as I really don't care about stuff that much these days.
If you have any suggestions, please comment below! If this inspired you to make your own or add to yours, comment with that as well! If you want to collaborate any of these with me or help me accomplish them, comment!