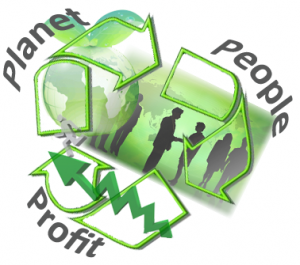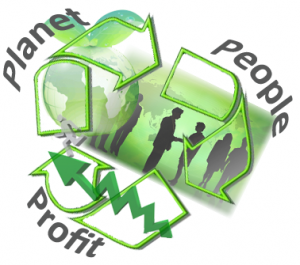 (Reposted from FreedomPassionPurpose.com)
The concept of a Triple Bottom Line is relatively new to the business world. It means measuring business (and societal) success in more than just economic profits (the bottom line), but rather with the 3 E's: Equity, Environment, and Economics… also known as the 3 P's: People, Planet, and  Profits.
Many people (especially entrepreneurs), like many businesses, seem to live their lives with a single bottom line: a concept of success measured by the accumulation of finances… of material wealth and socioeconomic status. When I first started in business for myself, I had a similar paradigm. I wanted to achieve financial success so badly. I believed that financial success would bring me all the other treasures of life. As a result, I focused my efforts on learning how to earn, but not learning how to live.
While I have been slowly shifting this paradigm over the last couple of years, it made a dramatic turn for the better after I met with Robert Staub and read his book 7 Acts of Courage. He and I spoke about the concept of a Triple Bottom Line in business… and the Vision Development Exercises in his book allowed me to develop my own personal Triple Bottom Line.
The Triple Bottom Line that I have developed and discovered for myself is the name of this blog: Freedom, Passion, and Purpose. I know look at every activity and pursuit in my life through this new lens.
If I join this business, work on this project, study this subject, will it…
Bring me closer to personal Freedom?
Fuel my fire? (Can I be passionate about it?)
And will it help fulfill my Purpose? (To empower others to improve their own lives and the world).
If an activity, business, or project doesn't match these three criteria, I try to keep it out of my life. That simple. I can't begin to explain how much more rich and fulfilling my life has been since I started applying this principle.
I encourage you do the same. Figure out your Triple Bottom Line (it doesn't have to be "triple" … you can have more or less central values). If you're struggling, check out my post on creating your personal vision and complete the entire exercise. It takes some discipline at first to break the old habits, but once you start experiencing a more enriched and meaningful life, you'll never want to go back. Decisions become lighter, and life becomes fuller.
For inspiration, check out my friend Ben Dixon's post on why success almost cost him his life. Ben has accomplished so much at such a young age and is a huge inspiration to me – and there is a lot to learn from his perspective on life.
I hope this post inspires you to find your own Triple Bottom Line in life… to find your central values and aspirations. I look forward to hearing your results in the comments below.
As always, if you have any questions or need any help, contact me directly!
P.S. – If you liked this post, you may enjoy my future ones… Subscribe to my Blog and Newsletter below:

Thank you for reading!