I just got back from the Maverick Family Freedom event. It's my second year in a row attending and working with the kids there, and I have to say it's been one of the most fulfilling things I've done all year.
This year, in addition to the younger kids setting up their mini-businesses and selling goods throughout the July 4th Celebration, we worked with the older kids (14+) to setup an information product. Within just a few days, they were able to put the product together (including audio and video recording and editing), write the copy, put up a sales letter, a delivery page, designed a logo, setup their social media platforms, and even make their first few sales!
You can check out the product and more of their story here, and support them by buying, liking, or sharing if you feel so inclined 😉
Giving kids entrepreneurial education at this age is priceless, but giving them an actual experience where they setup a business on the fly with some guidance and virtually zero budget, and see them make money with it right away, is a life changing experience for them. They are forever tainted with the entrepreneurial spirit (if they weren't already from their crazy entrepreneur parents!) and now have the confidence, the skills, and more importantly the belief that they can actually setup a virtual business quickly.
Here's 3 of the team of 4 working hard on the launch: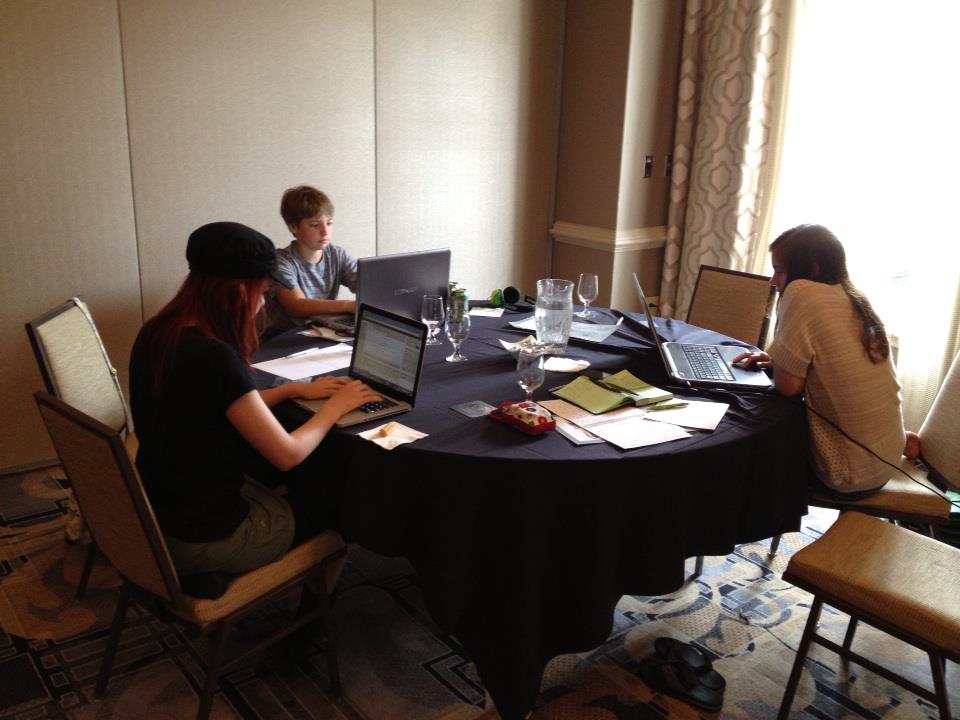 And here's all the Maverick Parents with their kids: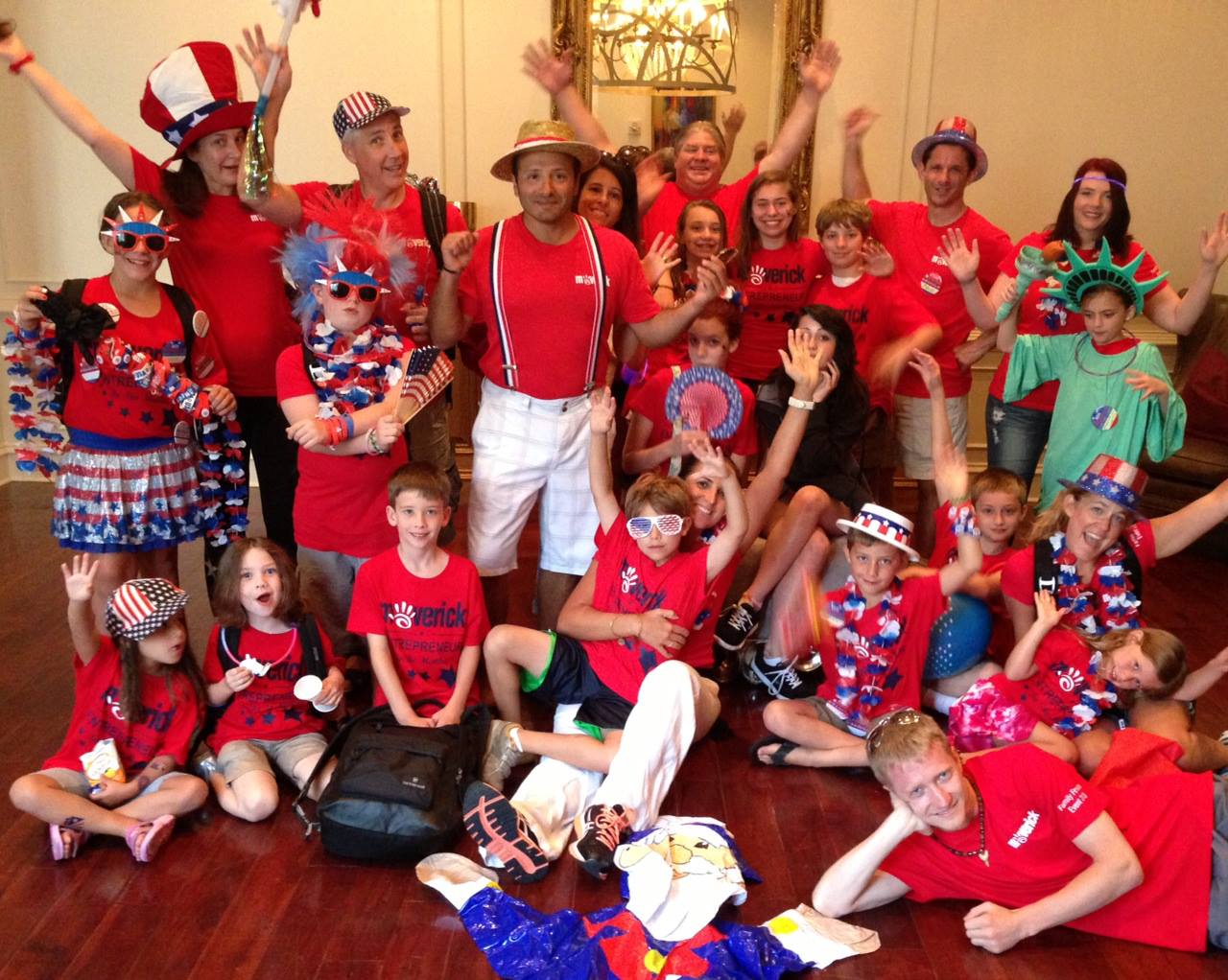 For me, this experience strongly re-affirmed my deep passion for young entrepreneurship, for opening young minds to the possibilities of their own potential and guiding them through the initial hurdles. Every time I hang out with Mavericks is an incredible experience for me, but this has been by far the most fulfilling week of my year.
All of my own anxieties and challenges even seemed to melt away as I worked with this young team. Beyond that, it made me realize (something I've known for some time, but easy to forget) that often times the best way to work through your own stress is to make a significant impact for others.
After this week, I know I'll be putting even more energy and focus than ever before into building support systems and networks for young entrepreneurs at all levels, and eventually a unique incubator. Helping others grow to new heights and open new possibilities can always be profitable and highly leveraged, but the best part is making a difference with every single hour of work and energy that I put into it. This is what I'm doing with my life, and I'm damn excited about it.
Also, we went kayaking, some of the families did water sports (wake boarding, water skiing, etc), and we watched an epic fireworks show from a big military ship in the Port of Charleston.
As I write this, I'm sitting on my friend Adam Summers' deck in Baltimore. Even just being around Adam's family and his beautiful home has further re-inspired my entrepreneurial energy. Aside from being one of the country's best plastic surgeons, Adam is one of those genius entrepreneurs who perfectly balances the creative right brain with the technical left brain, and seems to have mastered both. I have a lot to learn from him.
I'll be here for another week or so, hanging out with Yanik a bit and then attending a Russell Brunson Mastermind with my business partner Paul Hoffman and some other friends from the Internet marketing world.
By the way, shameless plug: I've been working with Paul to market Sculptations. It's another huge passion of mine, as it marries inspiring music with meditation with personal development; all things that have changed my life in one way or another. I recommend downloading and checking out the free tracks on the site.
Other Adventures:
I know I really have to post more often! Since my last post about my experiences in Asia, I've been on a few trips with some really great experiences and transformations. So here's a quick summary:
Canada
I went to Canada for the first time to celebrate my good friends' Larry and Perry's Birthdays. Nothing overly special on this trip, but it was a really fun time with good friends and my first time to the country.
Chicago
Maverick Multiplier Retreat in Chicago: this was epic! Both in terms of the content, the fun, and the transformational experiences. Even more so: the incredible people. I mean it, I think Mavericks are some of the best people on Earth.
Activities included powerful business sessions, Maverick Roller Derby, A Zombie Bar Crawl (really), boating, hotseat and mastermind sessions with startups and non-profits, and seeing the future of 3D technology. Here's a quick recap video:
My biggest takeaway from the content at Chicago was this: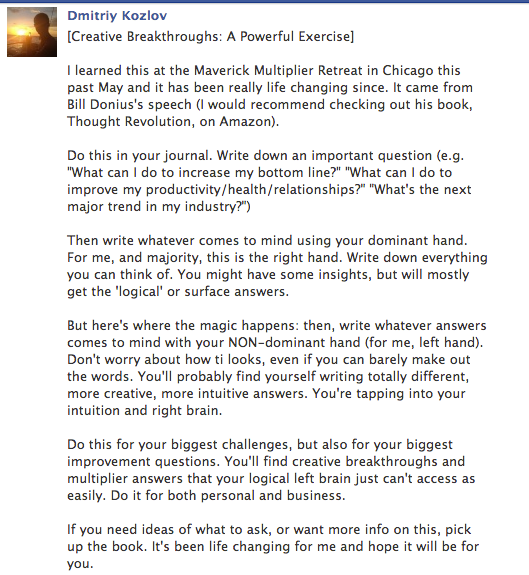 Austin
After that, I went to Austin with Ally. Ally helped out with event coordination at the Amazing Selling Machine event there (which Sophia managed – Sophia runs an awesome unique company called Maverick Events), while I hung out with all my Austin friends, and was again reminded of how excited I am to move there.
And with that, the big news: I am moving to Austin! Finally. We actually signed the lease and are officially moving in on September 4th. We found a really cool spot where the background goes directly into the greenbelt (the biggest nature reserve in Austin).
Upcoming…
More big news! I am going to attend Eben Pagan's Accelerate Program in Chicago at the end of this month. I'm super stoked for it. It's one of the best high level entrepreneur training events in the nation, and I was fortunate enough to win one of the young entrepreneur scholarship tickets (worth $7500 or so), and I know this event will be transformational for my life and business.
After that, I'll likely drop by RSD World Summit in Vegas. And no, I'm not trying to 'learn pick up' but my friend Nick Kho (Papa) runs the company and I actually think their content can be pretty awesome for overall personal development.
What's NEXT?
And finally, I'm working closely with my mentor Yanik Silver on a new project, where we'll be creating a tight network of successful young entrepreneurs and helping them accelerate their businesses and live more fulfilling lives through deep peer-to-peer connections, high level 'Maverick Mentorship,' and priceless content, events, and experiences.
We're looking for the NEXT Generation of Maverick Entrepreneurs. If you're a young entrepreneur 25 and under and you already have your own business running, looking to get to the NEXT Level in business, happiness, and impact, then this might be for you. Stay tuned, or Facebook message me to stay in touch.
This is the most exciting thing I've worked on in my life to date, and I can't wait to share it with you.
Stay tuned.
Thanks for reading, and as always I really appreciate your comments and questions!